Lady Luck support the great job of Barbarians A Team to win the Game Championship 2015
Team Barbarians A with Joachim Josch (Germany), Antonio Montefusco (Switzerland), Mike Riley (South Africa) and Ria Van Ranst (Belgium) won the 2015 edition of the EFSA Game Championship after a fatal error of Gibraltar B Team. While Charlie Carreras was fighting the last fish for a deserved victory , another member of the team have touched the rod and the fish has been disqualified.
The two teams finished tight at 1350 point and the Barbarians A won having their last catch first ( one hour before).
The day have started very slow with a flat sea and slow current mantaining clear water far from the shore.
After two hours only three fishes were caught when Miss Britt Captain Jason Cartwright decide to go more offshore looking for Dolphins and at 10.32 Gibraltar C Team start his best day with a multiple strike of four dolphins. Many other teams have follows them and several Dolphin were caught during the day by Gibraltar A on Double D and Barbarians A on L & H.
Italy C, leading the second day tie with Gibraltar B, had no luck on board of Hot Shot after a nice kingfish caught in the morning.
Gibraltar B on board of Thomas Flyier decide to go searching for Dolphin and after a kingfish caught in the morning they have started to push hard to win . Around midday the team finally find the Dolphins and start to make up with a final rush where Lee Torres had a valid Little Tunny and the final catch of Carreras.
Right after, the cold shower that at first sight seems not relevant but late in the afternoon it became a nightmare for Gibraltar B Team.
Antonio Montefusco of BArbarians A won again the Individual angler title followed by Daniele Tarroni (Italy C) and John Gonzalez (Gibraltar C).
Top captain was Dean Panos on Double D while Jason Cartwright on Miss Britt overtake in hte last day Blue Yonder s Captain Nick Gonzalez.
Gibraltar B lead in the National Section Standing, followed by Italy C and Italy B.

The EFSA Game Championship Committee: From left: Committee Boat Lisa L Captain Mike Puller (Radio Operator), Massimo Brogna (EFSA Game Officer) and Horst Schneider (EFSA President)
The storm of the first day passed by but probably the effects affected the second day of the EFSA game Championship 2015 going gon in Miami,FL -USA.
With a nice day coming up after collecting the blive baits, all boats left the Bayshore Landing Marina , located in Coconut Grove at 7 am .
The have strded well with the Lee Torres ( Gib ) on borad of Miss Britt 2 captain Jason Cartwright catching a nice Kingfish over 100 cm an proceed consisten for thfor 20 minutes with tuna and other kingfish and dorado than start to get slower.
At 9.20 anglersFilippo Marsanich was fighting and called the fish even if it was not possible to figured out if it was a sail.
After 5 minutes Captain Nick Gonzalez of Blue yonder inform the Committee boat it was a shark and they cutted the line.
At 10.32 captain Nel Martinez on Top Gun called the first sailfish hookup for angler Giacomo Forti (Team Barbarian B) but the fish was lost after a few minutes.
Fishing was unespected slow for all day with only 3 sails caught and release by Jojo Josch (team Barbarian B ), Martin Du Plessis (SAF) on board of L &H Captain Jimmy David and Matteo Concilio (Italy B) .
At the end of the second fishing day Team Italy C with awith 4 Blacfin Tuma and 3 Kingfish most of them over 100cm tie Gibraltar B with 1050 point ,with Italy B still on third place with 750 point .
Daniele Tarroni Italy C , mantain the leadership of the anglers alone with 500 points followed by Gibralta A angler Shaun Balban and Gibraltar B Charlie Bear both with 350 Points.
The Captain leader was Nick Gonzalez Of Blue Younder with another good perf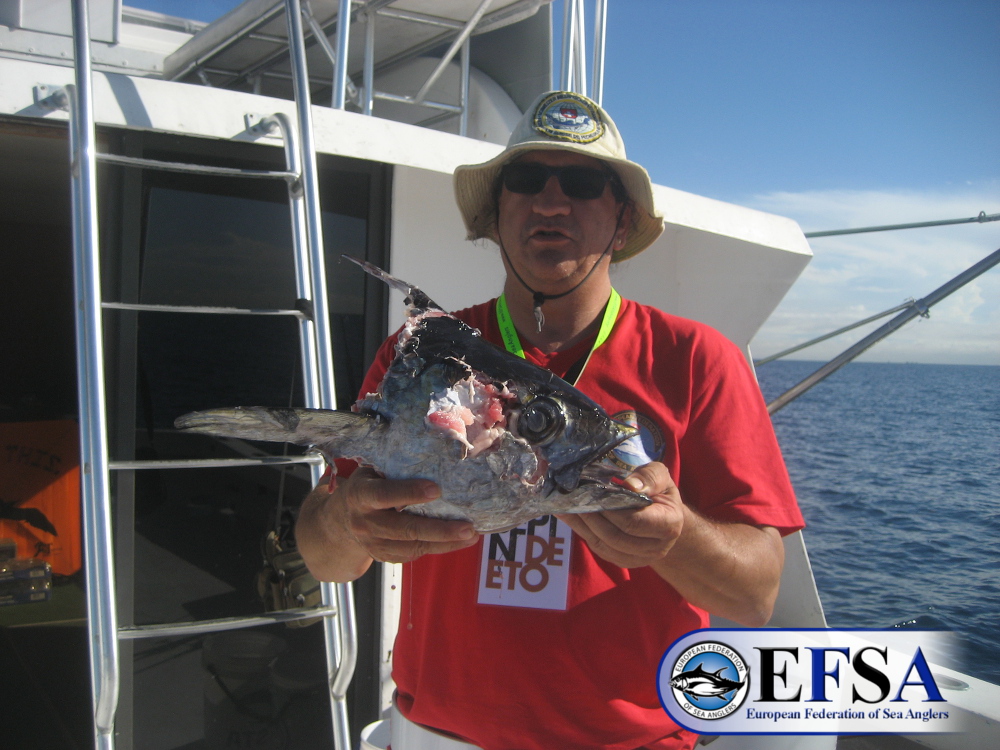 Antonio Montefusco ( Barbarians B) having some problem with Hammerhead shark appetite
A litlle storm with consistent rain for the first half part of the day welcomes the 30 anglers attending the EFSA game Championship 2015 that have started today may 5th in Miami ,FL.
Everything was ready and the boats leave the dock at 7.00 am to start fishing for baits until 8.30 am.
In time at 8.30 the Game Officer Massimo Brogna have declare Lines in and after 23 minutes angler Daniele (Team Italy C ) open the game catching anice kingfishing .
Despite the bad weatherwe have had a sufficient bites during all morning with first sailfish hooked up at 8.55 by Gibraltar angler Charlie Carreras (team Gibraltar B). The fish was safely released after 3 minutes at 8.55
Bite has followed with a good ratio catching all valid species as Blackfin Tuna , Kingfish, Dolphin, and some little tunnyand two nice Cobia.
Slow bites for the sailfish compared to the last week before the Championship .
at the end of the day we had a total of 6 fishes release out of 10.
Gibraltar B team takes the lead with a wonderful day on board of Blue Yonder of Captain Nick Gonzales, with 3 sailfish released and 3 dolphin for a total of 900 points. followed by Italy C on board of Lisa L captain Mike Puller, with 4 nice kingfish and 4 blackfin tuna (500 points)
On third place Italy B 5 fishes quite all over 100 cm which gives them 50 more point each for a total of 450 same as Gibraltar C
To be noted that at the end the day all catches of team Barbarians B has benne disqualifyied because the team didn t measured their catches. Top angler standings was headedby Daniele Tarroni Italy C with 350 point, folowed with same point by Gibraltar A angler Shaun Balban. On third place Chalie Carreras with 300 point same as Charlie Bear both of Gibraltar B Team.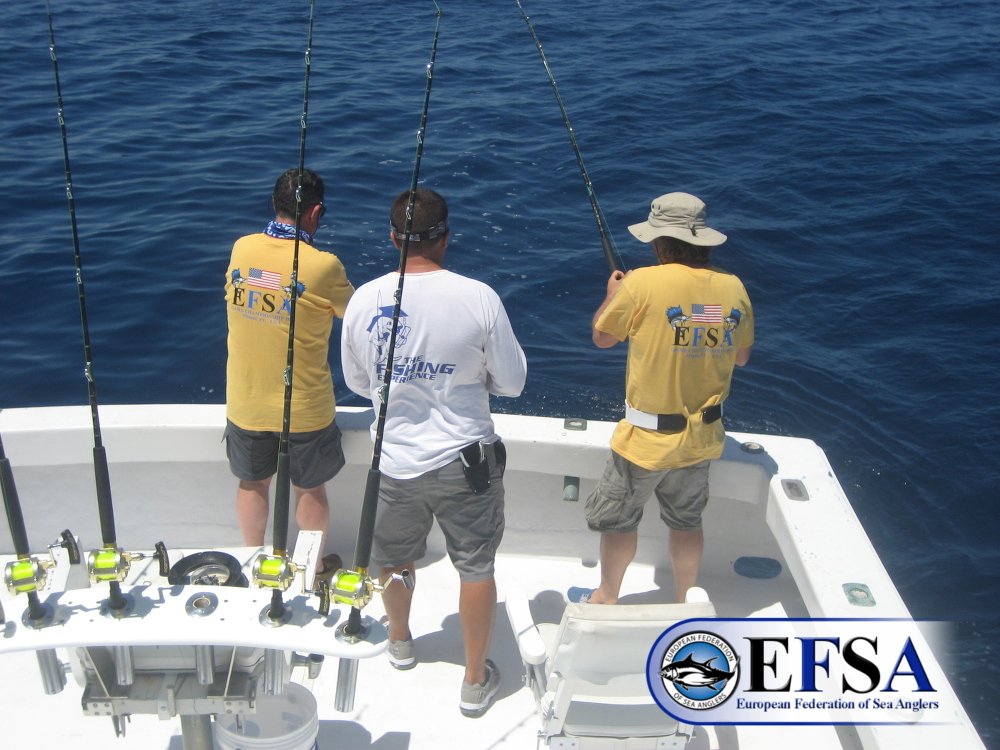 Usually, good fishing helps a lot to cover the organization lacks and leave anglers with a lot of nice hot action images in their eyes.
We have been forced to cancel the initial part of the program, which was one of the most expected event for all anglers attending this Championship. The registration and the briefing and the visit of the Museum has been cancelled due to the relocation of the IGFA Exhibition at Bass Pro Shop in Springfield.
Furthermore a strong storm have affected the fishing area during most of the first fishing days.
Despite all that, plus another bunch of problems which normally are part of any events, the balance of this Championship is much more than good. All nice words from all teams and friends of EFSA Family, the appreciation of the EFSA President Horst Schneider, the smiling faces of all anglers and Captains, make me feel proud of a good organization and I hope every one had great time in Miami.
More that this, the fact that more than 90 % of the anglers attending our last Championship in Cabo San Lucas where here in Miami to join us again, makes me feel sure about the new direction we have given to the EFSA Game Championship. We have a solid basement and I'm confident we will grow up step by step and make again this event as popular and prestigious as it has been in the past editions.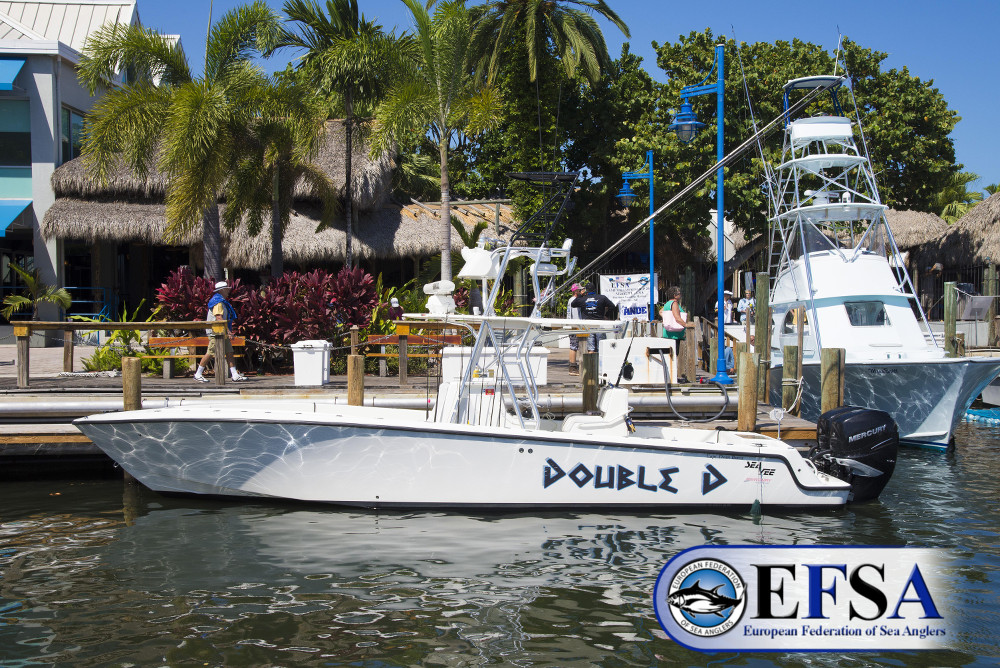 Top vessels Double D and Miss Britt II (2nd place) at the dock
The area around the Championship Headquarter became soon familiar and very confortable for all attendees like it was a small fishing club and it was easy and nice to walk to the coffee shop, the Market, the fishing tackle shop, the Bayshore Marina or all restaurants in the area.
We have started on Sunday may 3rd with The Tarpon Festival , which was a fun event to give all anglers the chance to fish one of the most popular Florida's game fish.
A strong wind forced all boats to stay in Key Biscayne Bay and only two fish have been caught.
Ria Van Ranst have started her unforgettable week by winning the tournament, releasing her nice 70 lbs tarpon just 5 minutes before Steven Walder (SAF).
The day after we have started the EFSA Game Championship scheduled on three fishing days.
Fishing was not as expected but anyway I'm sure for all anglers has been very interesting learn more about Kite fishing, the most popular and productive fishing technique in Florida. We had some of the best Captains in Miami join us and I want to thanks them for their good job, patience and the good times we have share with them. I have had a lot of good feed back by all anglers. The selected Ande 20 pounds line test was perfect for the anglers to have fun with the average size of the fishes and specially when sharks came to have a banquet with their live baits. Some of them fights for hours with fishes over 200 pounds with a lot of fun but not valid for points.
The EFSA Game Championship 2015 have had a nice closure on Friday may 8th evening, with two very special guests honouring our event.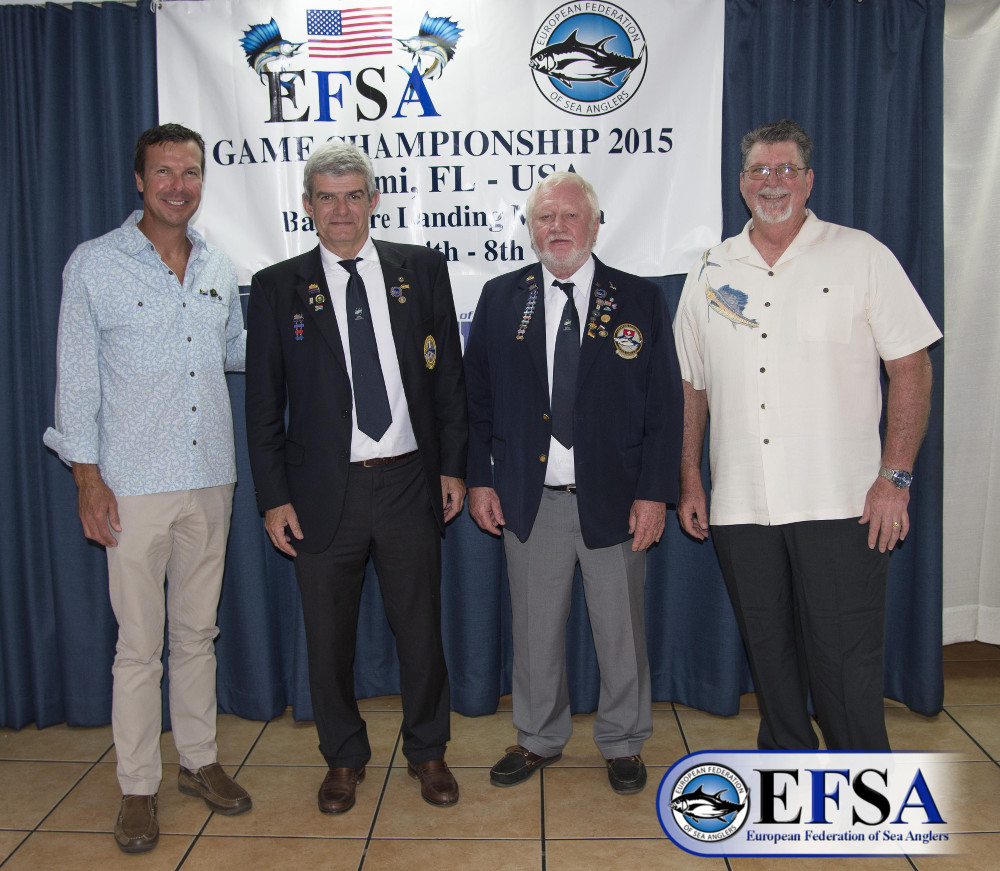 From left Rob Kramer (IGFA President) Massimo Brogna (EFSA Game Officer)
Horst Schneider (EFSA President) and Chuck Gerlach (ANDE President)
Special guests at the Award Ceremony the IGFA President Rob Kramer and the Sportfishing First Lady Lara Kramer along with long time EFSA sponsor ANDE monofilaments President's Chuck Gerlach with his wife Karen.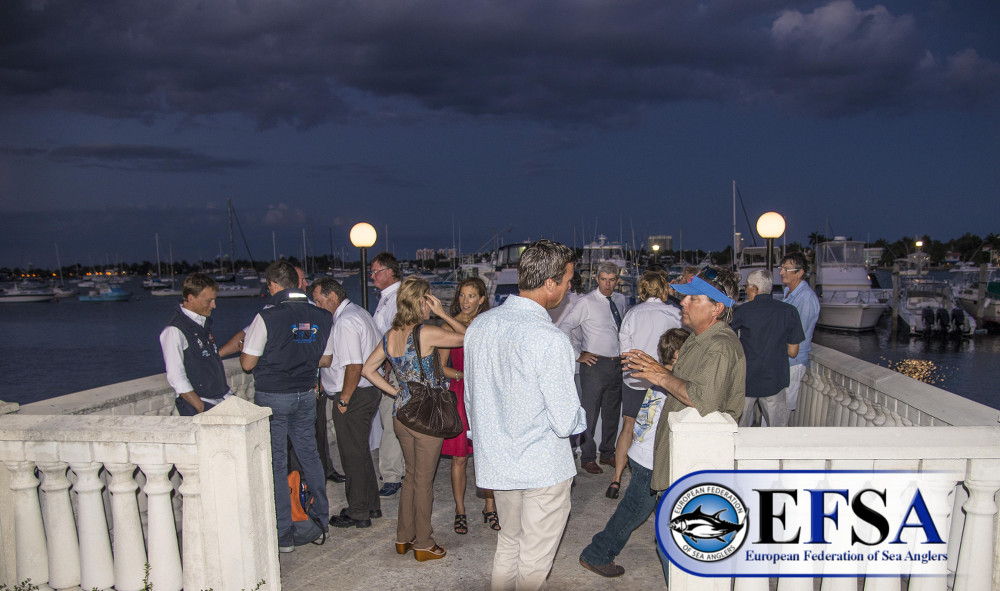 The Award's Ceremony and Dinner took place at Miami Outboard Club. The evening have started with an elegant cocktail in the outside terrace of the Club House located in Watson Island, Biscayne Bay followed by a nice buffet and with final Champagne jam for the last farewell to Miami and an the invitation to see all again at the next Championship in Cabo San Lucas – Mexico.As always a nice event has hardworking and keen on people in the back stage.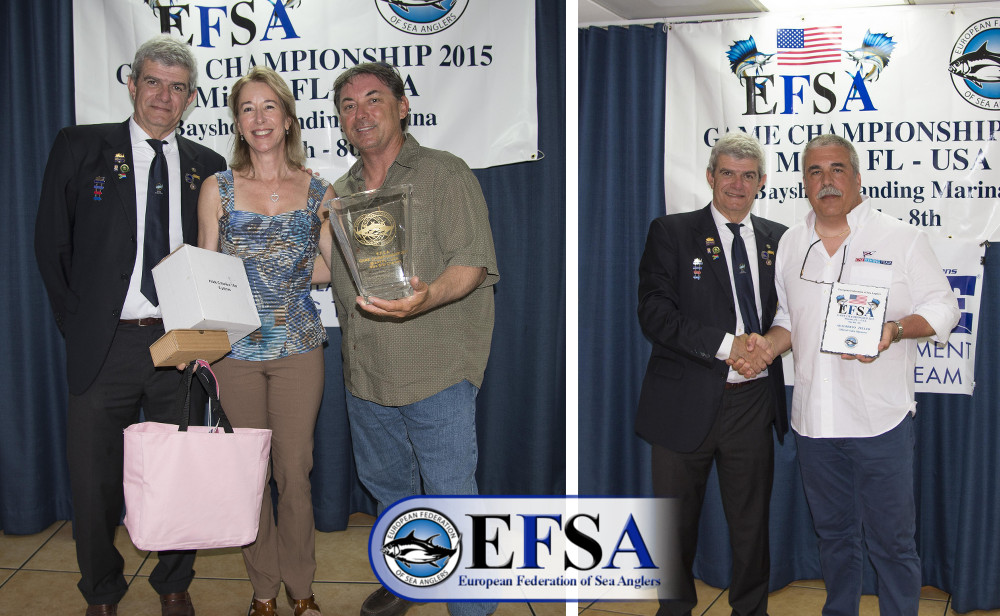 My personal thanks goes to Ray and Charmain Rosher (top left Photo). They have been great behind the scene coordinating the fishing boats, baits and facilities.
Another huge thank you to our Video Operator and Official Photographer Adalberto Zeller (Top Right).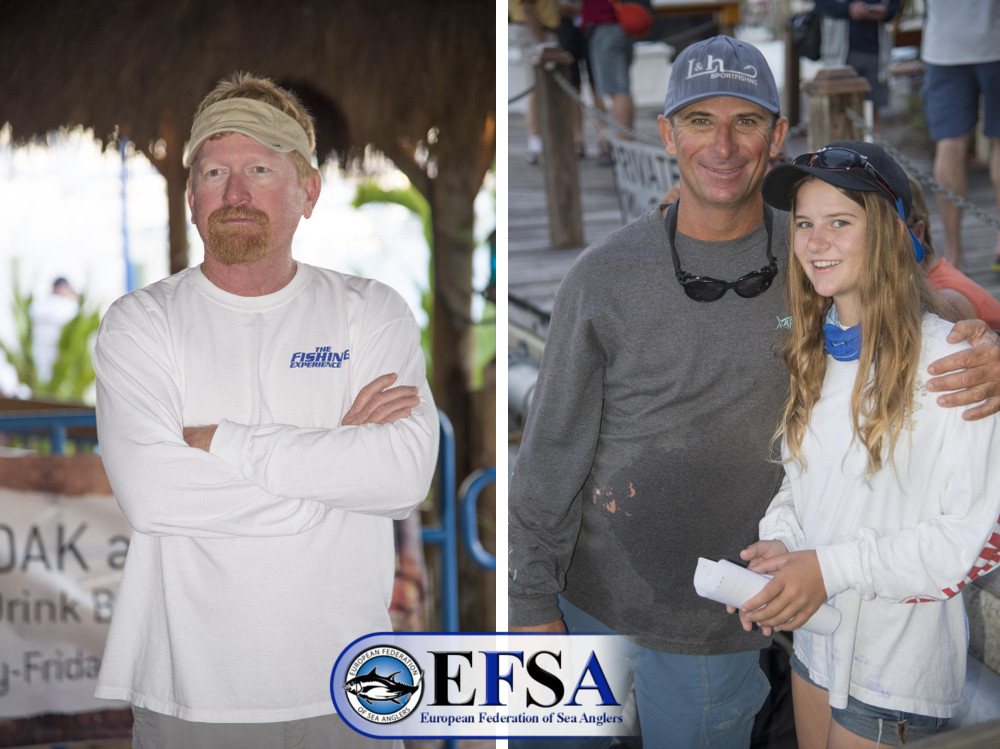 Thanks to Lisa L Captain's Mike Puller (left) during the Championship and L & H Captain's Jimmy David ( top right with his daughter Laurel) during the Tarpon Festival who have helped us acting as Committee Boat and giving me time for a brake during the fishing days. The entire Courtyard Marriott Coconut Grove Hotel Staff gave us a kindly assistance to our group. They have been fantastic and for the Organization this has been a huge help.
Thank you to Robert Aldereguia at Miami Outboard Club who was able to organize a fantastic Award dinner on a Friday evening in just 48 hours. Believe me, this is not usual in Miami.
Thanks to the IGFA for their great support on organizing this Championship. We miss a lot the Hall of Fame but anyway they allowed us to take some footage of their beautiful Headquarter you will see in the official video.
Thanks to our Sponsors Ande Monofilament , Capt. Harry's Fishing Supply, Bepin de Eto, IWS Scales and Courtyard Marriott Hotel.
Thanks to EFSA President Horst Schneider and his wife Alda for attending the Championship and for his great support to the Game Championship in all this years.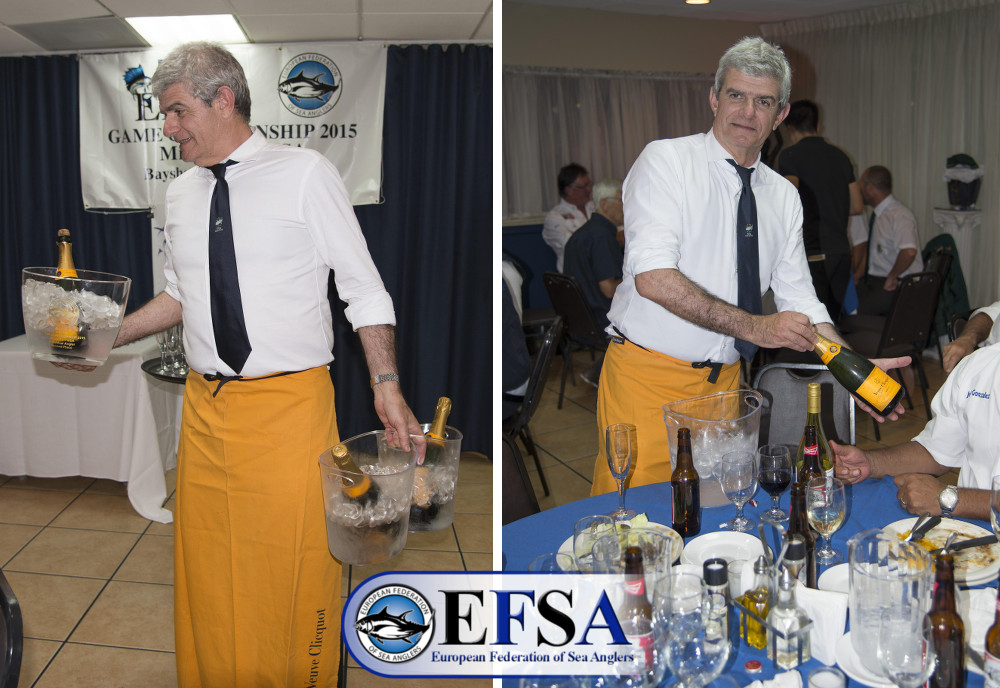 It's been a great pleasure to serve you all and I'm looking forward to see you all again in Cabo 2016.
Stay tuned on efsafishing.org.
Friendly regards and tight lines
Massimo Brogna
EFSA Game Championship Officer