Download this document: click here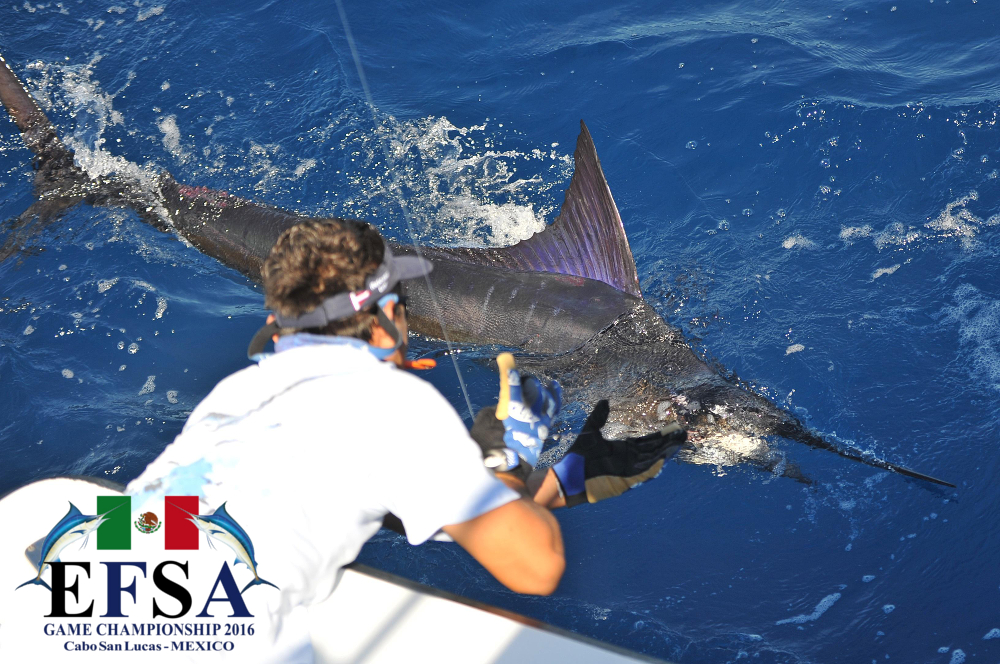 Welcome to Cabo San Lucas
By unanimous decision the EFSA Game Championship return in Baja California to fish again in the prolific waters around Cabo San Lucas in Mexico.
Cabo San Lucas, definitely, is the most famous fishing destination in Mexico. Located 1.000 miles from the US Border at the tip of Baja California peninsula where at the famous Cabo's Arc "El Arco", the Sea of Cortez meet the Pacific Ocean waters and the desert meets the waters of the famous sport fishing paradise known all over the world as "The Marlin's Highway". Cabo San Lucas host some of the most famous tournaments of the world as the Bisbee's B&B, the Los Cabos Billfish Tournament, the Tuna Jackpot and many more.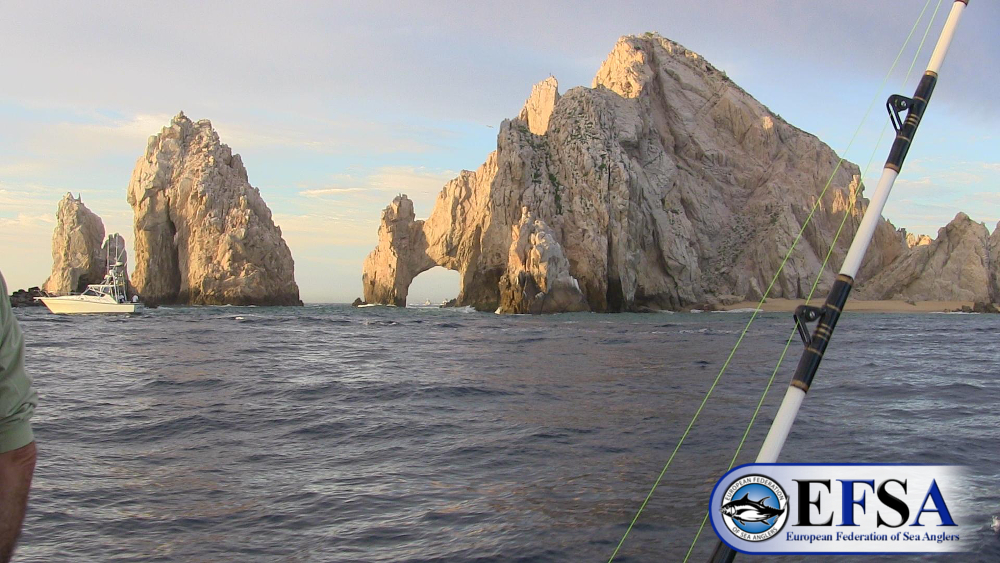 During the 2013 edition, we have had a fantastic Striped Marlin fishing and 11 anglers attending the Game Championship have the chance to release their first Marlin ever. But Cabo is not only Marlin and all anglers had a lot of fun joining the Roosterfish festival. Hundreds bites for this fish which is considered one of the most exciting game fish. Plus this inshore fishing gives the chance to discover the magic of the wonderful beaches around Cabo.

Flying to Cabo
The Los Cabos Int'l Airport (SJD) www.sjdloscabosairport.com, located 27 miles (40 minutes) far from Cabo San Lucas, is well connected daily from Mexico City (Aeromexico, Volaris) and all the most important US Airport as Newark, Los Angeles, San Francisco, Phoenix, Dallas, Denver, Houston, Chicago, Atlanta, served by American Airline, Air Canada, Alaska Air, Delta, Iberia, Aeromexico, United. Please note that quite all flight from Europe arrive late to find a transfer flight to Cabo in the same day, so please check the best itinerary to follow and keep in mind that is often necessary a stop over for a night. Actual rates for early booking are from 700,00/1.000,00 Euros roundtrip fare.
Ground transportation
We will have special rates for the airport transfer and for the transportation to and from the marina with TRANS CABO which have served for years the IGFA OWC and we will have a reservation page on our website to make your reservation from/to the airport. You will easily recognize the Trans Cabo drivers at the Airport exit. We will have a 30 USD special fare roundtrip airport/ Hotels and it will be possible to make your reservation by internet, Fax or phone. TRANS CABO have also van/suburban with bilingual driver for the guests at daily rate of 360 USD.
Hosting
Marina
The Marinas in Cabo San Lucas host one of the most professional sportfishing charter's fleets with more than 300 sportfishing boats and pangas.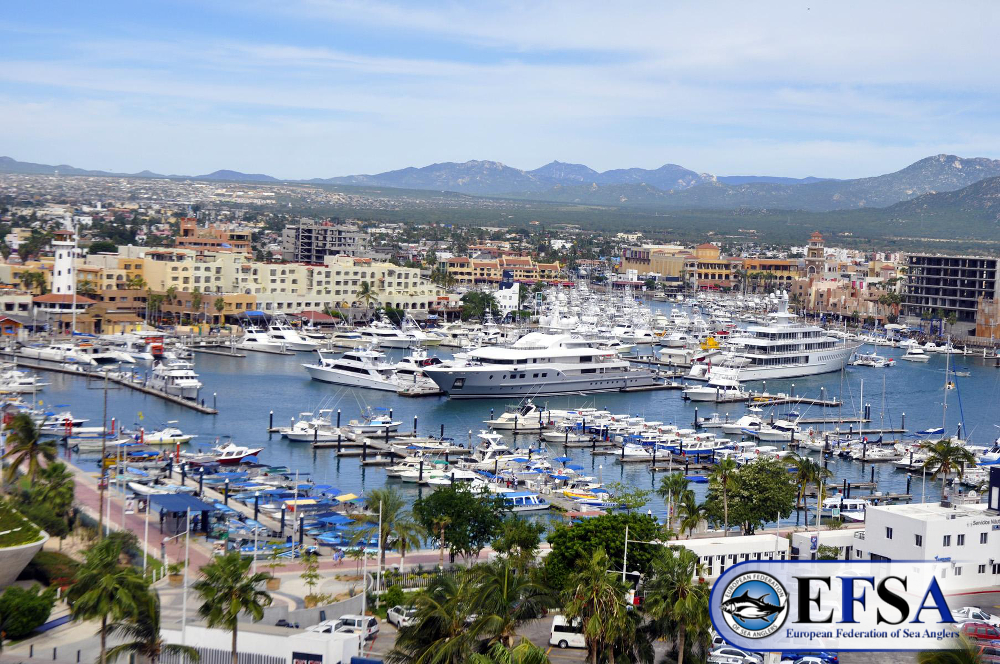 IGY Marina Cabo San Lucas (www.igymarinas.com) will host again our Championship. The Marina is located in the internal side of the Cabo San Lucas Harbour (GPS 22°53'06.93' N -109° 54'6.42' W), lote A-18 de la Darsena near Puerto Paraiso Mall.
In your angler bag you will find a sheet with all the boats, Charter company phone number and where they are located. If your boat is located at the IGY Marina you can board directly from the dock. If the boat comes from another marina you will board from IGY Marina Dinghy Dock, right close to the EFSA GC check-in desk. If you want to practice some days before the Championship, feel free to contact them directly.
Every fishing day there will be a free shuttle transportation by Trans Cabo, from Headquarter Hotel/IGY Marina from 5.30 am to 7.00 am and from IGY Marina/ Headquarter Hotel from 3.30 pm to 6.00 pm.
EFSA GC Headquarter
This year the headquarter of the Championship will be located at Playa Grande Resort & Grand Spa. The Hotel restored just a few years ago, is located right on the tip of Baja California peninsula, close to the famous arc and the very comfortable rooms offer a fantastic view over the Pacific Ocean.
On our website you will find a link for your reservation. Playa Grande Resort & Grand Spa will offer a special rate available for 3 days before and after the event and will maintain this rate until the Entry deadline May 30th, 2016, after this date you will have this fare based on availability .
Rates are as follow:
Deluxe Jr Suite $ 212.85
Luxury (1 BRD) $ 256.97
Price are in USD per day including taxes (16% Federal Tax, 10% Service Charge, 3% Lodging Tax and are subject to change without notice), Breakfast, 15% discount at Playa Grande Grand spa (only Treatments), Turn down service.
Children under 12 stay free in the same room.
There will be also a service for the lunch box for the fishing days at 15 USD each and you can reserve it at the registration deck before the Championship.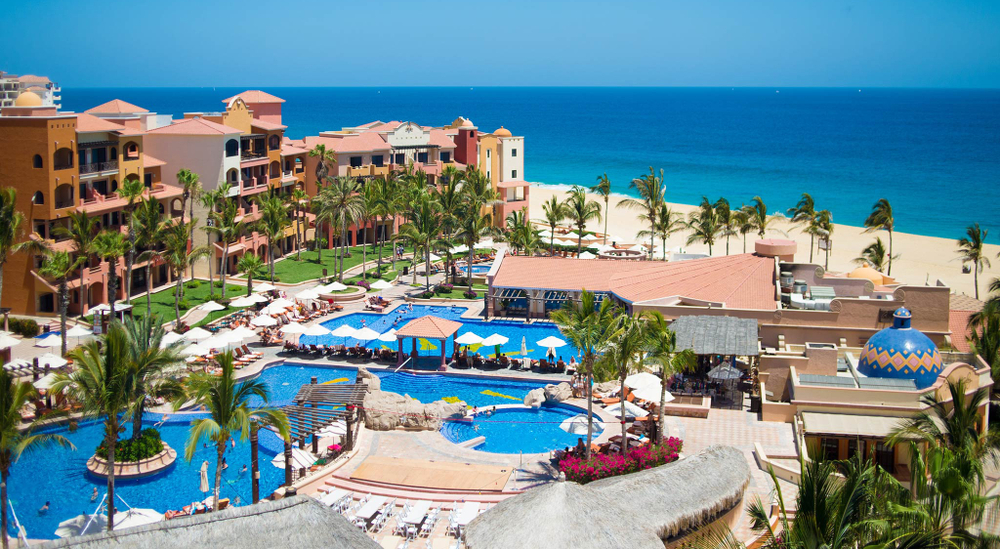 All information about EFSA Game Championship will be displayed at Playa Grande Resort & Grand Spa.
Fishing season & fishes
Cabo is one of the few fishing destination where is possible to fish over 350 days per year.
December is still peak season for Striped Marlin (100/150 pounds) and for Yellowfin Tuna (60/100 pounds). but could be still good for Black & Blue Marlin with an average weight of 300 pounds.
Other targeting fish are Sailfish (65 pounds) Dolphin and Wahoo, they are getting slower but when bite, they are bigger than usual.

We will fish on selected 31 to 33 feets boats and each boat will have 6 rod and reels equipped with ANDE Tournament 30 lb yellow fluorescent, the Official fishing line of the EFSA Game Championship 2016.
If you need some other fishing tackle you will find an incredible variety of teasers like kona jigs, feather and the most popular lures at Minerva's Baja Tackle (www.minervas.com ) where Bob and Minerva will be happy to assist you for any suggestion and information about fishing in Cabo.
Just ask and you will have your favourite fishing tackle.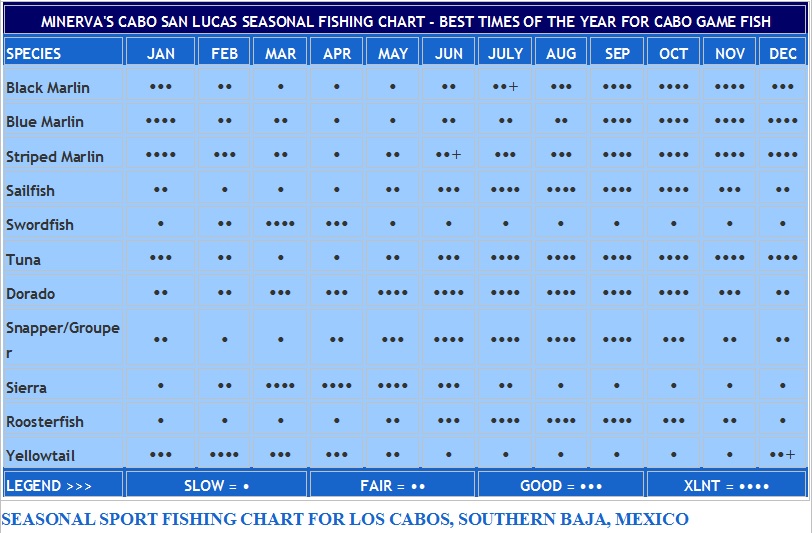 If you need additional line you will find it at Minerva's Baja Tackle, which is the official Ande dealer in Cabo. You can ask also to fill in your reel. At your arrival you will receive your fishing license if you want to practice before the Championship. Minerva Saenz Valenzuela will be again our Tournament Coordinator and member of the EFSA Game Championship Organization Committee.

Optional fishing event:
On Friday December 9th we will have again the optional half-day Roosterfish Festival for all the EFSA Members and guests, fishing in a random two per pangas, to have some good fishing with the king of the shore, one of the most exciting and spectacular Pacific inshore sport fish that can reach more than 60 pounds.
But not only Roosterfish. December is the starting season for the yellowtail a carangidae big enough to let you have a lot of more fun .
We invite you to join this funny event that will give you the chance to enjoy the environment, the beaches, the desert and the unbelievable shore of this wonderful which is Baja California Sur.

Guest activity
:
There are so many activity and daily trip to do in Cabo other than shopping in the artcraft Market and luxury's shop. The village of Todos Santos or the town of East Cape, Los Barriles and La Paz (the right place for a whale watching tour) on the Sea of Cortes shore, or San Josè del Cabo the Capital of the Baja California Sur State. If you want to stay in town, you can have fun renting a Quad motorcycle or an Hammer jeep for a desert safari's ride (www.shoreexcursion.com or www.cabosanlucastours.net), or try the unique experience to swim with the dolphins at Cabo Dolphins (www.cabodolphins.com). If you are ready to rock, just 5 minutes walking from the hotel you can visit the Cabo Wabo Night Club & Restaurant (www.cabowabo.com ), home of the famous Van Halen's singer Sammy Hagar tequila brand (but steaks are really tasty too) and be ready for a dancing night at the El Squid Roe, The Gigglin' Marlin, Hard Rock Cafè or just walking around the Marina where you can find plenty of restaurants , bar and shop.
If you like to have a better idea of what's happening in Cabo, visit www.loscabosguide.com

December is whales season !!!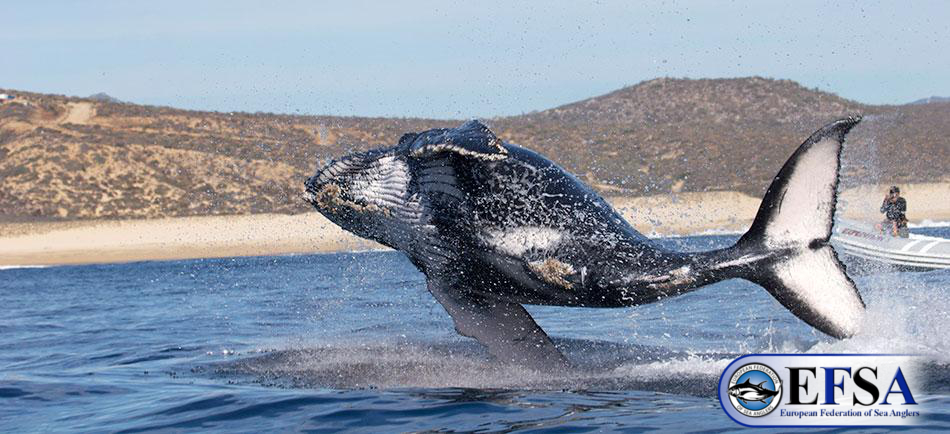 They came close to the shore sometimes offering an unbelievable show like this.
O
ther Information:
Time Zone: Cabo San Lucas is – 7Hrs GMT
Weather: The weather in Cabo is normally sunny and dry hot with an average annual rainfall of 10 inches. The average temperature in October/November is 60° to 90° F. Do not forget your sun protection.
Currency: The local currency is the Mexican peso but US dollars are normally accepted.
1 Euro = 19.78 MXP 1 USD = 17.75 MXP 1 GBP = 25.40 MXP ( change march 2016)
You will find in town AMT cash dispenser both in USD and MXP. We suggest to have both because sometimes the locals use to change one dollar for 10 pesos.
Telephone & Internet: The international area code for Mexico is +52. If you want to buy local SIM card for your phone or tablets, you can buy it at the TELCEL Office: Boulevard Lázaro Cárdenas Local 26, Plaza Copán (across from the Chevrolet agency and next to the Pemex Station).
Open Monday to Friday 9:00 am to 7:00 pm Phone: (624) 143-2222
Tackle Shop
:
Minerva's Baja Tackle – Francisco Madero esq. Blvd Paseo de Marina Cabo San Lucas.
Tel.: +52 (624) 143-1282 or +52 (624) 143-2766 Fax: +52 (624) 143-0440
minerva@minervas.com www.minervas.com
Jansen Inshore Tackle ( specialist for Shore fishing) – Lázaro Cárdenas esq. Vicente Guerrero s/n Interior Mar de Cortez, local 1
Colonia centro, 23410 Cabo San Lucas, BCS,  México Tel. +52 624 14 35804
Jansenlures@gmail.com www.jansen.mx
Lunch Box: you can reserve your lunch box for all fishing day at the registration desk for 15,00 USD each.
Restaurant: We will have a Preferred Restaurant Program for the Championship with some of the particular and nice Restaurant in town. You will find the complete list on your angler bag. Each restaurant will reserve a discount or a special offer for the EFSA Anglers. All the preferred restaurant will be easily recognize by the Championship Flag outside. We kindly invite you to visit them during your stay in Cabo.
Other
Hotels:
Wyndham Resort – Cabo San Lucas
Blvd. Marina s/n Lote 9 y 10 Col. Centro – Cabo San Lucas
Solmar Hotels – www.solmar.com
Marina Fiesta Resort – Blvd. La Marina, Lotes 37 y 38 Cabo San Lucas, B.C.S., 23410
Phone: +52 (624)145.60.20 – FAX +52(624) 145.60.21