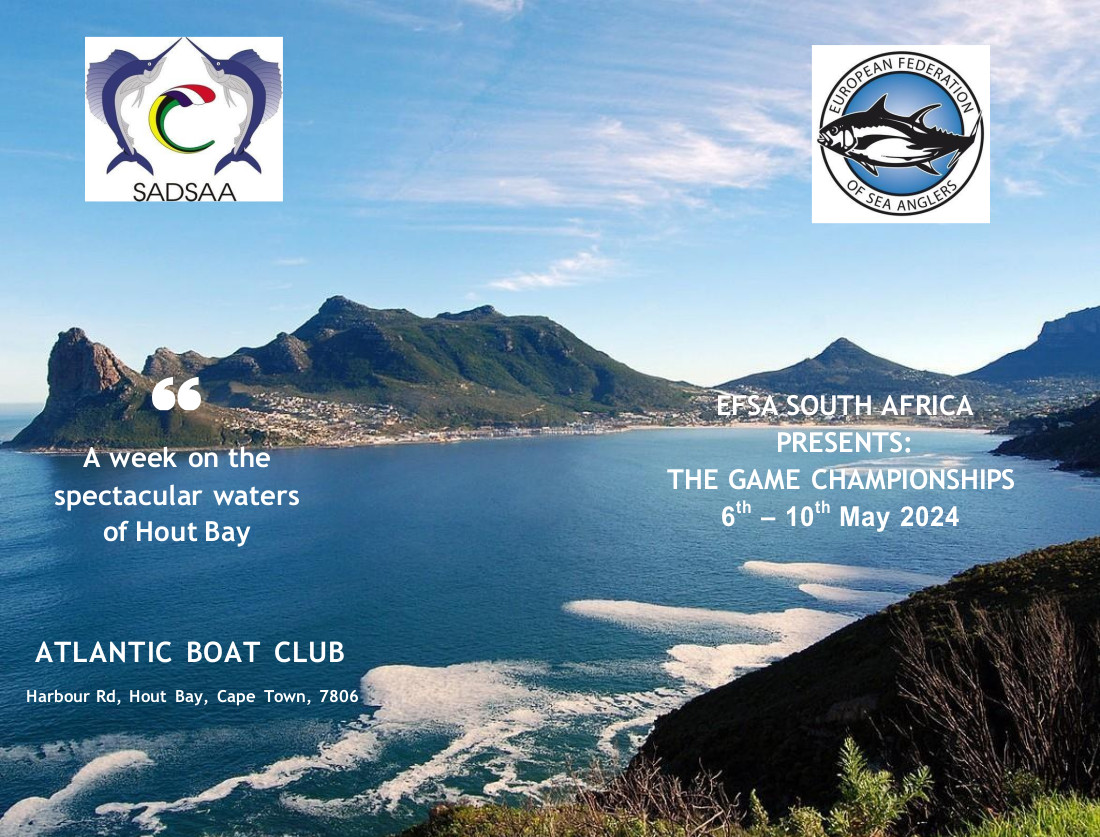 Due to the changed location of the tuna shoals it has been decided to move the Championships from Simon's Town to Hout Bay.
Please see the revised brochure below.
The week before the Championships SADSAA are holding a bottom fishing tournament to which EFSA members are welcome.
The brochure for this tournament can also be found below.
Download 2024 EFSA Big Game Tournament Struisbaai 2024
2024 BOTTOMFISH INTERNATIONAL INVITATION
Additional Information
Tackle
Reels: these can be any 50w (anything bigger is a waste), anglers preference for make but there seems to be a 50/50 split between Shimano Tiagra's and Penn int. personally I would go for the Tiagra it can take a beating and is not as noisy as the Penn.
Line: most of the standard 50w spools will take about 350m of 50lbs mono, I have never been spooled on this, but I have heard of plenty others that have, my suggestion would be to put on 600m of 80lbs braid backing and then splice or use a PR Bobbin knot to attach the braid to the mono, all the other knots will also work but I'm not a fan of them!
Rods: 50lbs, 6-6.5ft rods with some bend/give in them, not broom sticks, not bent butts (Banana butts), not Marlin rods or rail rods otherwise your back will be broken after the first fish. The rod does not need to be full roller guides, a stripper guide on the bottom with SiC round guides leading up to a tip roller guide will be perfect and there will be less chance of the braid going into the rollers as there are less rollers! The Daiwa Powerlift or the Shimano Gamefish 24kg T-Curve are probably the most all round mass produced rods that can work, but again this is the anglers preference, Calstar, Connely, Seeker all have brilliant tuna rods.
Line: again this is anglers preference, obviously it needs to be IGFA rated, we do get most of the igfa rated lines here Moi Moi, Ande, Double X, Stren etc.
Fluro: is a must, the better the quality the better your chances of getting shy fish (Japanese Fluro)! Pending the conditions both the champagne and pink fluro's are working well, it is definitely worthwhile on spending the money and getting proper fluro. The diameter can be anything from, 0.8 to 1.2mm in diameter pending sea conditions (Clarity, wind chop etc) and how full of shit the fish are! On average the recreational's use 0.9mm to 1.0mm the commercials 1.3mm and up. [Nick Nel] (can be purchased at the tackle shop at the venue)
Hooks: most make of j-hooks any size from 7-9 pending on make, mustard big gun, Gamagatso etc but get the hooks with a wide gape, I find that more hook pulls happen with the narrow gape hooks. If Circles are being used, obviously they must be inline, the mustard tuna circle would be high on my list also the BKK's but all without swivels! Fish don't eat swivels and they shy away from hooks with to much bling on them![Nick Nel] (can be purchased at the tackle shop at the venue)
Sinkers: these are generally small barrel sinkers, ¼ to ½ ounce which we hide inside the baits, we don't fish on balloons so big sinkers and elastic bands are not necessary. ( can be purchased at the tackle shop at the venue)
Any stand up harness will do, preferably a Black Magic, Aletecnos, and the local makes here all work, we are not girls in this country our fish are all caught in stand-up gear.[Nick Nel] (supplied on boat)
Terminal tackle: tools- side cutters, longnose pliers, knives all of which should be on most of the boats but it is advisable to bring this with for tackle prep in the evenings! Definitely bring 1 or 2 large tuna bogur grips, we do not have those here and for M&R these will be essential! Also a lip gaff or two will be most handy if they are allowed! (supplied on boat)
Weather gear: we can have cold and wet days out at sea during that time of year, also working with bait all the time is messy business! I would advise anything from a Grundens, Musto, Gill pants with a suitable jacket.